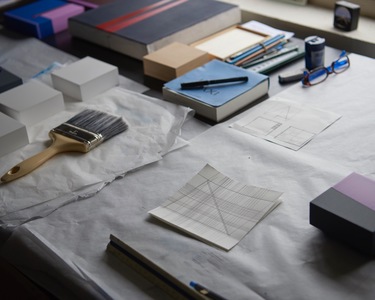 Photo: Jason Schmidt
Bill Bloomfield is an artist and architect living in San Francisco, California.
The cylinder, the cube, and the pyramid strike in inner resonance. These forms extend into the graphic world through the circle, square and triangle. It is this resonance and the tension between form and color on a two dimensional plane that captures Bill's attention as an artist.
Bill is influenced by the structured and rational geometries found in Swiss graphic design by artists such as Bruno Monguzzi and Max Bill. He also is guided and inspired by the work of Amédée Ozenfant, Paul Klee, Le Corbusier, the Suprematists, Don Voisine and Ellsworth Kelly.
After receiving a Bachelor of Architecture degree from Virginia Polytechnic Institute, Bill worked in Berlin, Germany on architecture competitions for Peter W. Schmidt Architekten. He was also employed in the studio of Heikkinen-Komonen in Helsinki, Finland where he worked with a team of architects on the New Finnish Embassy for Washington, D.C. He currently works on architecture and interiors projects together with Jennifer Mobley at Mobley Bloomfield in San Francisco.